Whether you want a natural or a sophisticated look, the best products for a perfectly even complexion are BB and CC creams. Part skincare, part makeup, they correct the appearance of blemishes so your skin looks perfect and ready for makeup. But which one should you choose? And why should you have to choose? Did you know that you can combine them too?
We tell you all you need to know about these tinted creams, which will soon become your new beauty essentials!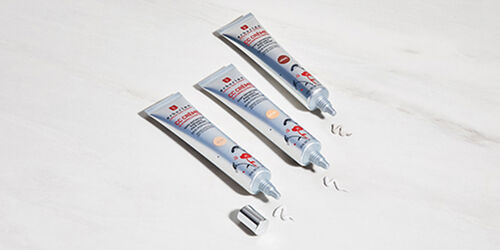 CC Cream: For a luminous finish!
This hi-tech, multi-purpose formula works to correct blemishes, even out skin tone and leave an ultra-natural, luminous finish!
Our CC Cream illuminates any complexion while moisturizing at the same time. This innovative hybrid product combines skincare with makeup and reveals a unique, transforming texture… on contact with the skin, the CC pigments change color and adjust to your skin tone.
If you have special skin needs, we have expert products: CC Red Correct is ideal for fair skin tones that are prone to redness.
The CC Cream also boasts another benefit: an added SPF 25 sunscreen.
Tip:
If you're looking for a luminous finish, the CC Cream is the product for you!
And if you want an even more perfect finish, you can mix it with a little BB Cream, which provides greater coverage.
How and when to use your CC Cream?
CC Cream has a soft texture, very easy to apply with your finger tips. Wash your hands first then simply dab your CC Cream onto your forehead, cheekbones and bridge of your nose. Blend over the face to even out your complexion; It corrects the appearance of minor imperfections and moisturizes your skin at the same time. Blending is essential to obtain an ultra-natural finish.
As a skincare-centric makeup, CC Cream is an everyday partner: the more you use it, the more benefits for your skin you get.
BB Cream: For matte, velvety, soft skin!
The BB Cream is the ultimate skin-perfecting formula. It works to even out skin tone, conceal blemishes and provide a velvety, soft effect.
This beauty essential is a clever combination of skincare and makeup: it melts on the skin, moisturizes your face, and helps to even out and mattify the complexion while giving a non-oily, matte finish.
Imperfections seem to disappear and your skin's texture looks refined. It feels supple and smooth. But that's not all! The BB Cream also offers SPF 20 UV protection.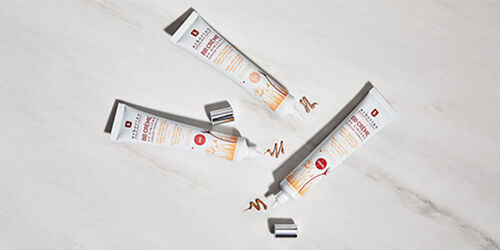 How and when to use your BB Cream?
As it is for CC Cream, you can use your fingers to apply BB Cream all over your face.
It might seem to be the easiest option since it simply melts with the heat of your skin, but doing so might not be the best way to make the most of your BB Cream. Using a sponge or a makeup blender could help you obtain an even smoother result. Not only is it more hygienic, but it can also help you get the perfect complexion, without knowing any specific technique the hands-on-approach might require.
In any case, spread your BB Cream toward your neck and hairline. Even though BB Cream may offer a much lighter coverage than a foundation, it is important to avoid any harsh lines.
BB cream can be used on a daily basis and could become the best time-saver in your morning routine! Both care and makeup, it protects your skin, conceals blemishes and mattifies complexion, all in one touch!
Can I combine CC Cream and BB Cream?
BB Cream or CC Cream can be enough on their own but they can also be combined in order to make your complexion even better. If after applying your CC Cream you still feel like you need an even smoother matte finish, you can layer your BB Cream on top.
What about the shades?
CC Cream
Our CC Cream is available in 3 shades: Clair, Golden/Doré and Caramel.
The "Clair" shade is perfect for fair complexions with pink or beige undertones, while the "Golden/Doré" shade is ideal for enhancing lightly bronzed or tanned skin. A little tanner will perfectly match the Caramel shade.
CC Red Correct is ideal for fair skin tones that are prone to redness.
BB Cream
The iconic BB Cream is available in 4 shades: Clair, Dore, Caramel and Chocolate.
If you have fair skin, choose the Clair shade.
Use the Dore shade if you have tan to medium skin, for a healthy glow effect.
If you have medium to deep skin, you'll love our new Caramel shade.
If you have deeper skin, our Chocolate shade will be your best match.