The importance of double cleansing
Beautiful skin starts with a great cleanser! Whether you're always on-the-go or just staying at the house, double cleansing is a must-do for gently, but effectively cleansing your face to prevent breakouts and nourish skin.
Double cleansing consists of two steps:
Step 1: Oil-based cleanser
Step 2: Water-based cleanser
Find out why people rave about the double cleanse method!
Step 1: Oil-Based Cleanser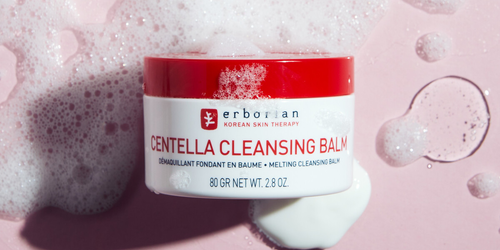 The first step in double-cleansing is oil-based cleansing. The purpose of this step is to deeply cleanse without damaging the skin.
Oil-based cleansers are able melt away oily particles and lift away all those impurities that have built up during the day which includes make-up, sunscreen, sebum and more. One misconception is that if you don't go out or use make-up during the day, you don't need an oil-cleanser, however oil can naturally build up on your face throughout the day so make sure to not skip this step!
Our Centella Cleansing Balm or Milk & Peel Balm are perfect for this step. The secret is, you have to use the balm on dry skin and gently rub in circular motions all over in order to melt away make-up, sunscreen or any other impurities on your face. Once you add water, the balm turns into a milky, nourishing solution that rinses all the dirt and oils away.
Oil-based cleansing is suitable for all skin types – dry, combination, and even oily because it's followed by water-based cleanser.
Step 2: Water-Based Cleanser
After using your oil-based cleanser, it's time for your water-based one!
It completes the cleansing process by eliminating any other impurities or oily residue on the skin and helps to reduce the appearance of spots, redness or blackheads.
When it comes to water-based cleansers, you can use a micellar water, like our Cleansing Water or a foam cleanser, depending on which you prefer. Check out our Double Mousse cleansing foam for a soothing daily cleanser!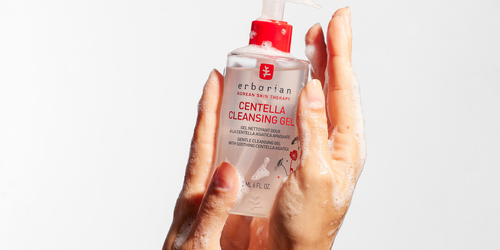 Bonus Tips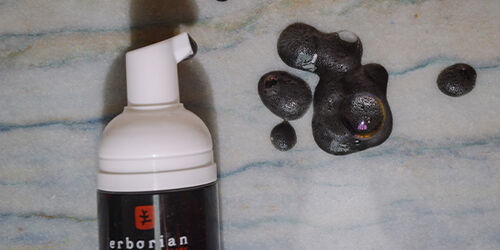 The first step to great skin is a good cleanser! When you don't effectively clean your skin, dirt, make-up, and other impurities build up in your pores causing imperfections and acne.
Other ways you can combat acne is to make sure your pillowcase is changed regularly because bacteria can build up which can rub off onto your skin. Opt for silkier pillowcases which can also be more gentle on your skin.
Also, make sure to exfoliate two to three times a week. Not only can you refine your skin texture but using ingredients such as charcoal can detoxify your pores for a cleaner feel!