Confidence in our bare skin goes beyond our favorite skincare products. That's right, it can take a little more than lotions and moisturizers to change our perception of reality (yes, every skin is beautiful!), protect our faces from external aggressors and reduce the appearance of aging. Healthy, glowing skin also lies in our lifestyle and… the way we use our hands.
Mastering facial massage techniques is needed in order to address firmness and wrinkles effectively and make the skincare products you use work even more efficiently.
From the benefits of facial massage to how to perform it, we are about to let you in on a little secret. Scroll down in order to learn more about it.
Facial massage benefits: reasons to do it
With undeniable benefits for the face and beneath the skin, there is no doubt facial massage techniques will become part of your night routine soon.
These gentle moves help stimulate skin, helping remove daily toxins from your skin as well. A great way to make the most of the ingredients of your usual skincare product so that they are absorbed more easily.
Facial massages also relieve tension from your face for an instant lift (that lasts when performed on a regular basis!). By exercising facial muscles, you keep them toned and tightened.
To get all the benefits of facial massage and reach a youthful and more radiant complexion, it's time to grab your favorite facial oil.
Face massage oil: enhance the benefits of facial massage
First step of the Korean double cleansing method, oil-based cleansing is at the heart of the Korean skin care routine: it helps to melt and lift away oily particles that have built up during the day. A very gentle way to deeply cleanse without damaging the skin.
But oil can also be incorporated into your skincare regimen to improve skin hydration (locking in moisture) and strengthen its barrier function.
Discover Skin Therapy, our lightweight multi-perfecting night facial oil, specially designed to adapt to all skin types: the power of 17 plant extracts combined that makes you feel more confident in your bare skin, in just one night. After one use, skin appears smoother, the complexion is more radiant. Day after day, skin texture is refined, wrinkles and fine lines are visibly reduced. With its two-phase formula, it envelops the skin without leaving any oily finish.
Now, to reap all the benefits of facial massage and your night oil, let's focus on the moves.
It's practice time! Here is everything you need to know about facial massage techniques to get the most out of this final part of your night routine.
Step 1: Shake your Skin Therapy Multi-Perfecting Night Oil-Serum bottle to mix the super ingredients. Empty the dropper fully and then refill it. Warm 3 to 4 drops of the bi-phase oil-serum in your palms.
Step 2: With the flat of your hands, pat the oil-serum with gentle but firm pressure, all over your face:
on either side of your jaws,
on either side of your cheeks and nose bridge,
on your forehead and chin,
on both temples,
on your neck.
Step 3: Target your neck and lower face
Start by massaging your skin from the space under your chin down to your chest, using gentle vertical strokes, moving downward.
Go back to your jaws and lower face, slowly sliding your hands up towards your ears.
To give the appearance of 'lifting' the skin around your lower face, pinch your jawline between your index and middle fingers sliding them up from the chin to the ears.
Step 4: Target your cheeks and cheekbones
Extend your thumb and index finger in order to create the letter L. Then put your thumb pad under your chin and lift the skin of your cheek from the nose bridge to the outside (in an up and out motion - never down!).
Same as earlier, use your index and middle fingers to pinch the skin of your cheekbones gently as you move toward your temples.
Step 5: Target your upper face
Press your fingers into the centre of your forehead gliding them out toward your temples. Still using your fingers go back to the center of your brows moving your fingers up toward your hairline.
Then, take a moment to rub your fingers into your temples, using a circular motion.
Come back to the space in between your eyebrows for a few seconds, making zig-zag movements with both index fingers.
Step 6: End your facial massage by gently tapping your fingertips all over the areas of your neck and face.
Important note: in order to make the most of these facial massage techniques always use firm but gentle pressure.
There's nothing better than these facial massage techniques done on a daily basis to get the appearance of smoother skin and make the ingredients of Skin Therapy Multi-Perfecting Night Oil-Serum absorb and work their magic even moreso. With this multi-perfecting night oil-serum and the right moves, say goodbye to signs of fatigue instantly and give your complexion a fresh and radiant look, with fewer imperfections, day after day. The perfect combination to make you feel confident in your bare skin, in just one night!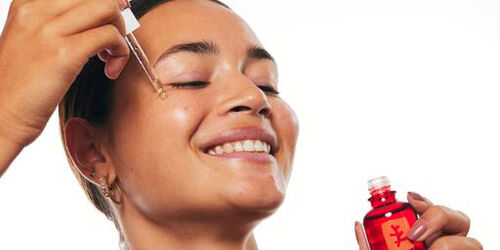 Introducing Skin Therapy