If you believe face oil can increase breakouts and other skin disorders, get ready to be surprised… As crazy as it sounds, it can do wonders for all skin types. Yep, facial oil is a must-have to take your beauty routine to the next level!
You'll see, in the end, it is just a matter of finding your true-match and using it properly. Read further as we explore the benefits of face oil, from cleansing your skin deeply to improving its health and its protective role, day after day.
Face oil: your skin's best friend
Make no mistake: oil is vital for your skin health, whatever your skin type is! Through the sebaceous glands, our body itself produces lipids. Known as sebum, this oily substance forms a layer on the skin's surface that protects against external aggressions, such as bacteria or viruses. It also maintains the level of hydration, by preventing water from evaporating.
But the function of the sebaceous gland can be compromised for many reasons: lifestyle (diet, smoking, alcohol, etc.), environmental factors (weather variations, sun, pollution, etc.), harsh or comedogenic cosmetics, hormones… Moreover, as we get older, the production of sebum declines, which leads to signs of premature ageing such as fine lines and wrinkles as well as less elasticity.
You've caught on: our skin's natural oil balance needs to be taken care of in order to preserve and boost its protective role. That is exactly what the use of face oil is all about.
The power of face oil to gently cleanse your skin
Traditional facial cleansers can strip away all bacteria and oily substances, good and bad. Your face might no longer shine, but your skin conditions could worsen, since this kind of product can be harmful for the skin's barrier balance in the long run. We hear you… how do you get rid of all impurities without stripping and harming the skin's barrier then?
Well, the secret lies in using face oil. That's right, combining oil with a water-based cleanser is the key to a very gentle and effective cleansing.
As the first step of the double cleansing method, oil-based cleansing is at the heart of the Korean skin care routine; It removes all traces of makeup and lifts away oily particles (pollutants, excess sebum production, etc.) that have built up during the day. The water-based cleansing that follows eliminates oily residues and any other impurities.
Contrary to popular belief, oil-based cleansers can work for every skin type, including oily skin, especially if it's used as part of a double cleansing routine.
The idea behind using an oil-based cleanser is that the face oil bonds to the oily particles and dirt on the skin, washing them away without any effort: "Like dissolves like''. Thanks to this property, oil can perfectly cleanse the skin's surface, without being harsh on it.
Furthermore, using face oil cleanser helps to protect and boost the natural lipid layer of the skin, maintaining its barrier function.
In order to fit your routine perfectly, these oil-based cleansers come in different forms. Whether you prefer the smooth texture of an oil or the comforting softness of a balm, Erborian has you covered: try Centella Cleansing Oil or Centella Cleansing Balm.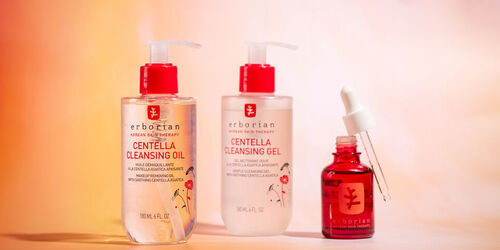 Facial oil in your daily routine
Beyond its cleansing properties, the use of face oil can be a real game changer in improving skin hydration (locking in moisture) and strengthening its barrier function; In addition to your usual serum and cream, or to replace them (depending on your needs and the product you use), facial oil is a must in your routine, especially at nighttime.
Which face oil should I use?
There are many different types of face oils with their own unique properties and benefits, addressing different skin types and conditions. Here are some of the most popular:
Sweet almond and avocado vegetable oils: thanks to their soothing and emollient properties they are great options for people with dry skin.
Jojoba vegetable oil: with its oil-balancing properties, it regulates excess sebum and soothes without leaving an oily finish. It is ideal for oily and acne-prone skin types.
Argan vegetable oil: its high antioxidant power gives this vegetable oil nourishing properties that makes it the mature skin's best friend!
However, these vegetable oils often address one specific skin concern only, and can be difficult to apply and absorb, as they can be too heavy and sticky.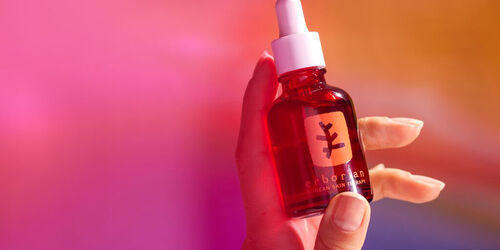 This is the reason why Erborian has created Skin Therapy Multi-Perfecting Night Oil-Serum: a face oil for all skin types that concentrates the power of 17 plant extracts with a very lightweight texture. This bi-phase formula offers quick absorption and delicately envelops the skin without leaving a greasy residue.
Specifically designed to work while you sleep it helps make you feel confident in your bare skin, in just one night's use! After one night's use of Skin Therapy Oil-Serum, 95% said skin feels softer, suppler, and texture is smoother*. Over time, wrinkles and fine lines appear visibly reduced and your skin becomes more supple.
To make the most out of all its benefits, always shake the bottle to mix the ingredients. Empty the pipette fully, then refill. Warm 3-4 droplets of the product into your palms before application.
Face oil offers many benefits, from cleansing your skin perfectly to strengthening its health and barrier function. Face oil is a must-have in pampering your skin day after day.
*Results proven by clinical testing on 41 participants.
Introducing Skin Therapy